With a friendly atmosphere, Classic Bike Shows' annual trip to Britain's southwest is well known for the extravagant exhibitions put on by the local motorcycle clubs who go all out to impress.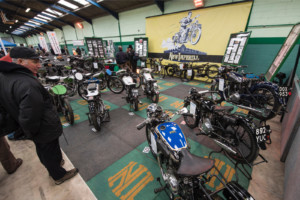 It's not uncommon to see a fully home-made motorcycle garage or club café make an appearance at the show; complete with hand-painted backgrounds, members in fancy dress and tea and coffee on tap! Not to mention their incredible collection of prized motorcycles on display for visitors to get up close and personal to.
Our loyal clubs are at the heart of the show, and help make it what it is and what it has been over the years. They work tirelessly to craft the most inspiring stands to provoke interest in their club and their motorcycles, and in turn, keep the classic movement alive. We salute them! So much so, that we offer cash prizes for the top three displays at the show every year.
If you're a member of a classic motorcycle club and are interested in taking a stand at the show, please get in touch with the team today!