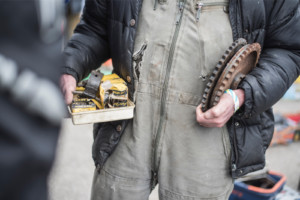 This event offers one of the earliest chances of the year for visitors to stock up on classic parts, spares, accessories and riding gear for the season ahead. It's a very popular date on the motorcycling event calendar, attended by more than 16,000 enthusiasts every year. If you're looking for a specific part to complete your latest restoration, chances are you'll find it on one of the trade or autojumble stands at Bristol Bike Show!
Therefore – it's the perfect place to pitch up with a trade stand and get those early few months of the year off to a great start! If you're interested in trading at the show, simply get in touch with the team today.
How much is it to trade at the show?
Showering Pavilion: £38 per square metre
Link Hall: £28 per square metre
Inside autojumble: £81 per plot
Balcony: £41 per 3m x 3m
Outside Pitch: £118 .50 per 5m frontage
Sunday only autojumble (outside only) £20 per 4m x 10m
To discuss your stand requirements and current availability, please contact Andy Catton: 01507 529594 /[email protected]
Or simply download a form and return using the information provided.